John realized that what was needed was a couple of weeks of uninterupted work and the play could be finished. He called Maureen Barrett at the Robert M. MacNamara Foundation Artist Residency Program and, sure enough, she invited the team down for the final two weeks of the current session. It was an intense and productive period of time and produced the first complete draft and score of the entire play. At Maureen's suggestion, singing friends were invited down for the final day of the session to learn the music and have a "scream through" before an invited audience. It was a marvelous performance, forever etched in the minds of all the singers and the audience members alike.
John Chandler and Bob Richardson on the steps of "Mac-Barn" during the writing of "Lighthouse, A Down-East Musical", May, 2003
Bob and John work with a willing and attentive cast in preparation for the "scream through".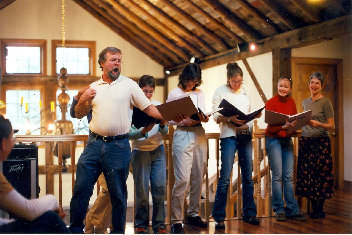 Rachel (Mattie) and Sara (Megan) rehearse the music for the very first time.
Dusty belts out "The Golden Age of Male" at the "scream through" much to the delight of the other actors and the invited audience at "MacBarn"